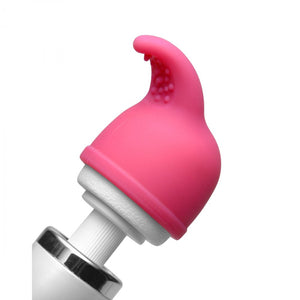 Make your wand massager go the extra mile with the Wand Essentials Nuzzle Tip! This uniquely shaped attachment fits over the head of your favorite wand massager, and takes an already exhilarating experience to the next level. The curved stimulator puts the vibrations precisely where you want them and features raised nubs to enhance the sensations. The velvety soft silicone material hugs your curves and is easy to clean when playtime is finished.
Measurements:
 Nuzzle Stimulator Tip is 1.43 inches wide and 1.38 inches long, Attachment has 2.3 inch inner diameter, 3.25 inches tall
Material:
 Silicone
Color:
 Pink
Note:
 Compatible with all Wand Essentials wand massagers, Hitachi Magic Wand and Mau-Tec wands!